Hi everyone!
I hope all of you had a wonderful years! Usually I write my first blog of the year a little bit earlier then half way through January, but I have to say, 2011 for me seems to already have proven itself that it's going to be an amazing year for all of us!
Many of us struggled in 2010, losing jobs, homes, family, friends… It was the worst year I have seen in my life time, and I hope that we can move past the struggles and being to rebuild our lives to get back into the "American Dream".
Most of you know that when I write blogs, they are quite lengthy LOL - sorry for that!! But this one I guarantee will bring a tear to your eye, because it does for me every time I look back at it. But I have to warn you, IT's WICKED LONG!!!!!!!!
In life, everyone has their place. Everything has a meaning. While we have all heard the terms "one man's trash is another man's treasure" and "every new beginning comes from some other beginning's end"… They are quotes that hold truth to them but usually aren't realized until the future.
I have to thank some people in my life for helping me get to where I am right now in my career, because without them, I wouldn't be blogging to you today.
So for starters, I have some people I need to thank, and I will let you see how much meeting people and making connections in life can lead to greater things to come; the domino affect is very true.
So with this in mind, the first person on my list that I would like to thank is my one and only, Richie. We met in 2003, and he gave me the opportunity of a life time; to work for Chrysler selling cars, and traveling the world. He was the first person to put me in front of a camera! I did a commercial for the dealership that put me in the local spotlight. Little did I know he would be the man that I will have forever in my life!
From there, I met the second person I want to thank; Tony D - "my big brother". Tony is my best friend. We are like two peas & a pod and when we hang out, my stomach hurts for days from laughing! Tony pointed out my very first customer on the lot for me, which ended up being my very first car sale… It was a Dodge Intrepid (Brand New). A couple months into the business, I became obsessed with the Dodge Ram trucks with HEMI's in them. I ended up selling a whole bunch of them in 03 and Tony jokingly made fun of me by saying "what the hell are you, the HemiGirl?" - from that moment on the birth of my career was born. It was all Tony's fault! Tony then got this idea that I needed to be in this calendar that a radio station had a contest for… he begged and bothered me everyday to enter it and he ended up submitting photos to them. Needless to say, they launched my career to the next level! I ended up being on the cover of their calendar, where I met several people in the entertainment industry. Not only that, but it also gave me an opportunity to be on LIVE radio, with thousands of listeners. ( This would later on help me in life as I was given the opportunity to work with Howard Stern & Ronnie on SIRIUS )
From there, I met the third person I want to thank, Ralph Riccardi. I was working a charity event for Matt Light (Patriots Player) and Ralph was shooting video for the event. He asked me to do a promo spot for him and we connected right away! We began to work together on several occasions filming fun stuff around New England. Ralph then introduced me to the fourth person I want to thank; a man who is like my grandfather (lol literally) and an idol to me, Mr. George Barris. Oddly enough, my life was slated to meet him because I just happened to be working an event that both Ralph & George were working together! Meeting George Barris was a dream come true! And yes, I do mean that because he is well into his 80s and meeting the guy who made the ORIGINAL Bat Mobile from the 1960's is something not many people can say; let alone getting the opportunity to sit in it!! Ralph brought me to Hollywood for the first time ever!! I met SO many people in LA and little did I know at the time, it would lead me on to do some extraordinary things in my life that I would never have imagined possible. Ralph put me on a whole new level and helped me brand my nickname "HemiGirl", which George fell in love with. Without my video's from Ralph, I don't think I'd be where I am today. Not only did Ralph introduce me to George, but he introduced me the fifth person I want to thank; Gary Conlogue. Gary is a photographer from Myrtle Beach, who would years later, be someone who captured the most moving moment in my life; my guardian angel in pure form.
But how are all these people connected?
Well… a few years ago I met Mike Suska, the sixth person I would like to thank, and makes the "six degrees of separation" a very true statement. Mike contacted me about being a "Patriot Girl" - an elite group of models that represents the idea of who we are supposed to be as far as being "Americans". His concept was about supporting our troops, law enforcement, and those who protect us and keep us safe - something I am very passionate about. Mike introduced me to the next person in my life that I want to thank; a man named Bob Bullard. Bob is an AMAZING photographer that I had wanted to work with for a very long time but never had the chance to do so until Mike gave me the opportunity to make the connection. Bob and I connected immediately and ever since then it has been an great relationship and an outstanding friendship. I consider Bob one of the closest people I have in my life that I have connected to on a business level and on a personal level. And I am honored to have been given the opportunity to work with him!
From there, Mike gave me the opportunity of a LIFE TIME - a photo shoot in the Dominican Republic at a private villa owned by a man who represents the idea of simplicity & class; Mr. Jason Matthews. I have to thank Mike for giving me the opportunity to meet Jason, because without Mike, I would have never met him!
Jason Matthews is the owner of Villa Castellamonte, a beautiful place that is located on the North Coast of the Dominican Republic that will make you forget that time exists. I am SO thankful to have met Jason, because little did I know, he and his family would be probably one of the coolest families I've ever met!
When I first signed up for the trip that Mike offered me, he gave me the opportunity to ask any photographers I know who would want to go with me. I asked Gary…. Gary is just flat out AWESOME. The only way I can describe him is thinking of Yogi Bear (LOL). Cool, funny and just a big ol' goof that you could never hate! I introduced Gary to Jason - and they made a connection of a quality friendship for the past few years.
Again, what does this have to do with everything?
December 31, 2010, Richie & I went to NYC to celebrate my 25th birthday and watch the ball drop. Standing there in the freezing cold I asked myself "What the hell am I going to do in 2011?" I had not made a resolution. I simply said, let it be in God's hands and the way will be shown to me. A few days later, while lost in my own thoughts, I came up with the concept of creating the HemiGirls 2012 DOOMSDAY Calendar. I decided to create the website, showed it to Jason and talked to him about shooting down at the Villa, and that's where everything started falling into place. I then asked Bob to come along with me on this project. From there, Bob & I worked profusely on TEAMHEMI. And of course, Gary was already on my photographers list seeing how he and Jason became friends. From there, I met the most amazing and talented group of photographers and models through my online contest for my 2012 HemiGirls DOOMSDAY Calendar Search. And I am proud to say that they will all be traveling with me to the Dominican Republic, to meet the man that basically made my dreams turn to reality. So I want to thank all of my staff of TEAMHEMI for being a part of my life's goals and I hope that my choices helps make your 2011 the absolute best year that it can be; one that is memorable and one that will help you make your connections to those who will later on have great meaning to you in life. I want to thank all my 2012 models, Carmella, Nikki, Ashley, Cassandra, Chelsie, Danielle, Amy, Scarlette, Michaela, Shannon, & Kimberly. And I want to thank my photographers, Bob, Gary, Mike, RJ, Kim & Sexy Skin Magazine. This truly is the dream team!
Oddly enough, Ralph is in the midst of working out a deal to film my project for network TV, so we will see how this all pans out!
The point of this wicked long blog is to show all of you something…
It is not made up, it is the real deal. And honestly, it made me want to thank those who have helped me out in my career, because you never know who will touch your life, and you never know when they will be gone.
The following piece is something that I wrote while in the Dominican Republic the first time around. I experienced a tragedy while I was down there. Yes it was hard to put a smile on my face while in front of a camera because deep down inside I felt like I just wanted to cry. And I did… and so did almost every person on that trip cried with me. But not only was it for my loss, it was for something truly miraculous that happened. And Gary caught it all on camera.
So please read this old blog below and realize this: Life has a meaning… if you are on the right path God will show you…
Saturday, March 14, 2009
Messages From Above
Current mood: blessed
Category: Dreams and the Supernatural
As most of us TapouT fans, I am having a difficult time mourning the loss of a dear and inspiritional friend of mine, Charles "Mask" Lewis.
Although many of us are saddened by this, I must say that there's not a whole lot of people who knew Mask like it did. Mask was a trip. He loved everyone he met, and he would stand in the way of anything negative that would arise and he would always make you laugh. He'd give you the clothes off his back and the shoes off his feet just to help your dreams come true.
He was a very inspirational person, he would leave me text messages with quotes that he'd make up…
two of his most recent quotes; some of my last text messages from him
"Being a dream come true is as simple as helping someone's dreams come true."
"Doubt doesn't dictate destiny, decision does."
When I sit back and read through pages upon pages of text messages from Mask, it really makes me sad that such a wonderful person has passed… but it also makes me smile because I was fortunate enough to have known him. We definitely had some pretty good laughs!
Mask was the type of person that would send you a text at 5am knowing that you were asleep just to try and wake you up… Ha he did that to me last week..
I remember during the filming of season 2 that he took my Dodge Charger out for a ride… I said "Dude, don't fuck with it, you crash it you own it!"
his reply….
he stuck his head out the window of my car, laughed his unforgettable laugh… and burned rubber at the top of the street…
that is just Mask…
He was the most respectable person I have ever met but most of all, he promised me the world and delivered it. That goes a long way, especially in the entertainment industry. He gave me a chance, he believed in me. Never would he ever put someone in harms way.
My connection with Mask..
As most of you know, I own my own entertainment company that is based around selling T-shirts… hence HemiFashion ~ Driven By Fashion.
When I met Mask we learned that we both shared a similar story as to how we started out in this industry… I too started with the license plate on my car… which reads HEMI85 …. he started TapouT with TapouT 3… Having known this, Mask believed in my dream and gave me an opportunity of a life time to put my stuff out there in the main stream…. by letting me wear my HemiGirl T-shirt on national TV during the filming of Season 2…By even allowing me to be a huge part of his show… which ironically is the last episode that I got to film with him for Season 2.
As time went on he recommended that I do a little more of an edgy design and offered some tips and pointers, which has lead me to my second design in my T-shirts….
They aren't finished yet but I had some of them printed up before I went to Dominican Republic this past week…. I decided to bring it with me and do a photoshoot while I had the models available…. my dream like Mask's is to be successful..
On Wedensday night while down in D.R, I turned on my cell phone only to read tons of texts with the tragic news… and I cried for hours with doubt and disbelief to think that someone I was so close to was now gone… someone who has helped me mark a milestone in my career.
On Thursday I did the photoshoot with the models wearing HemiFashion… I picked a random spot in the yard… and what I am about to show you is not doctored or edited… it is the real deal… and I know for a fact that Mask's spirit is alive… as he believed in me and I believed in him… and I believe this was a clear sign that my dream is very much alive..
This photo was one of the photos taken in the shoot…. after the shoot all of the models went to the beach… the photographer Gary stayed behind… he had fallen asleep and was woken up by a very bright light and to his surprise… he soon realized that he was the messenger…
Had this been any other day it wouldn't mean anything… but having this be within 8 hours of hearing of Mask's death and having it be indentical to the spot I was standing in is really his message to me…
BELIEVE
Click on the photos to see them large!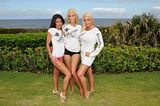 Identical spot to where I was standing just hours earlier…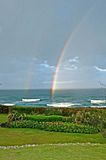 From the deck of my bedroom at the Villa…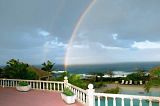 Over the entire house..

Charles & I for the filming of TapouT on VERSUS TV… He gave me a chance to show the world who I am..

Watch this video - in it you will see he allowed me to wear my "HemiGirl" shirt on his shoot… even though the shoot was for TapouTs line of apparel. This man truly was and still is my inspiration.
RIP - But I know your with me!

PS- November 2010 I launched my fashion line!! I finally finished that chapter of my life =) Check it out www.HemiFashion.com